Northwestern West Virginia -Grasslick Road
---
The Pfost Family Massacre
The Pfost Family Massacre
—Jackson County
Grasslick Creek
Ripley, WV 25271
38.71281, -81.64232
In November of 1897, 61 year-old Chloe Pfost-Green was living with her three children from different marriages – Jimmy Green-age 18, Matilda Pfost-age 26, and Alice Pfost-age 28 in a homestead along Grasslick Creek in Jackson County, West Virginia. She was well known in the community as always giving a helping hand to those in need and taking in anyone who needed a place to stay. One such young man she took in was John Morgan, who was left an orphan at the early age of nine or ten. For five years, he lived with the family until he married in 1896. However, John would stop in occasionally to earn money helping around the farm. On the cool night of November 2nd, he stopped in to have Chloe cut his hair. Unable to do it that evening, she allowed him to spend the night so she could take care of him in the morning.
That night, John Morgan bunked with Jimmy. Around four in the morning on November 3rd, 1897, both arose and John followed the young man out to the hog pen to feed. It is there the carnage began. John picked up a hatchet at the tiny pig sty and beat Jimmy to death. He then returned to the house to find the two sisters cooking breakfast while their mother was tidying up her bedroom. Immediately, he struck Alice with the hatchet and then turned to Matilda and hit her twice with the same weapon, killing her. Believing both women were dead, John Morgan proceeded to the bedroom and burst through the door, where he eventually also murdered Chloe after a brutal battle that ended at the front door. Alice, however, was able to escape by hiding in a pile of wood and the hen house while her sister screamed desperately for her to return and grab the gun to stop Morgan. So injured was Alice she could do no more than continue her flight and call for help at the nearby neighbor's home.
John Morgan was hung in December for his crime. No true motive to the murders could be found, although John's wife had complained to neighbors that for about 6 months, he had appeared depressed and talked and hummed to himself. Alice lived to the age of 75. However, for years people have sworn they see the ghost of a young woman running along Grasslick Road and they also hear screams. They claim it is the ghost of Alice running for her life. The screams, they are those of her mother, half-brother, and sister crying for her to help them.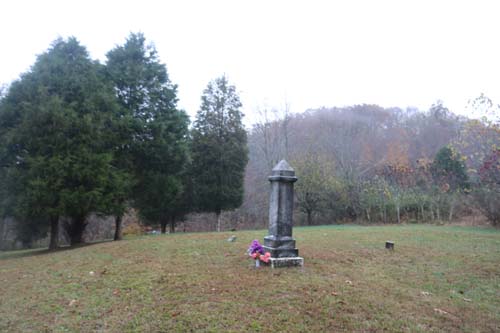 ---