Southwestern West Virginia - 22 Mine Road
---
Ghost of Mamie Thurman, 22 Mine Road
22 Mine Road
—Logan County
22 Mine Road
Holden, WV 25625
Entrance to Road and Drive:
37.796211, -82.107372
37.783812, -82.102540
Take the winding drive to the
top of the mountain.
In 1932, Mamie Thurman was a pretty, dark-haired 31- year old housewife married to a local policeman in Logan, West Virginia which is a little less than 3 hours from the Hocking Hills. Mamie was also an active church-goer at Nighbert Memorial in downtown Logan and a member of the Logan Women's Club. The couple rented a two-room apartment over a garage which was located in the backyard of 42 year-old Harry Robertson and his wife, Louise. Robertson was a starched-suit bookkeeper at the National Bank of Logan He was described as having greasy hair, a pinched face, and thick glasses.

On Wednesday, June 22 of 1932, Garland Davis, a 32 year-old deaf-mute, was picking berries near the top of Trace Mountain when he stumbled across the grisly sight—the body of a young woman who had been shot and stabbed and left discarded in a ditch. When the police arrived, the body was identified as Mamie. Nothing at the scene suggested robbery was the motive. Her pocketbook was found near her body which contained eight dollars in cash and some loose change, and cigarettes wrapped in paper. She was wearing a wristwatch, a gold diamond ring, and an engagement ring. A paper with a license plate number was found nearby. The police began questioning neighbors and friends. Quickly several names came up leading to two suspects—that of Harry Robertson and then, also, the handyman who boarded in the attic of Robertson's home, 29 year-old Clarence Stephenson. While the funeral was being held and the whispers were beginning around town, Robertson's house was searched by state police and there was a depression on the basement wall that was suspect of a bullet hole. Bloodstains were found on both the carpet and a razor. Bloodstains were also found on the seat and window of the Ford Sedan owned by Robertson.
Harry Robertson and his black handyman/chauffeur/hunting buddy, Clarence Stephenson, were accused of the murder. Robertson had readily admitted to having an affair with Mamie for nearly two years. The meetings were arranged by Clarence Stephenson who feigned hunting trips with Harry Robertson, then dropped him off at certain rendezvous points to meet Mamie. However, Harry Robertson was never indicted by the Grand Jury. Stephenson continually stated he was innocent but was indicted and stood trial for the death of Mamie Thurman. He was found guilty and sent to Moundsville Prison.

And Mamie's ghost haunts the mountain road, called 22 Mine Road, where her body was dumped. She is said to be seen at the top of the mountain, walking along the roadway. But that isn't all. Legends in the area state that if you park at the bottom of 22 Mine Road and place your car in neutral, it will roll uphill. It is Mamie's ghostly hands pushing your vehicle. I tried it. It works. Is it an optical illusion, a mystery hill phenomenon, made by the layout of the land? Maybe. But as my jeep rolled a good ten feet uphill on its own, I still wanted to believe it's her ghost.
22 Mine Road-The top of Trace Mountain, 22 Mine Road where Mamie Thurman's body was dumped and her ghost still lingers.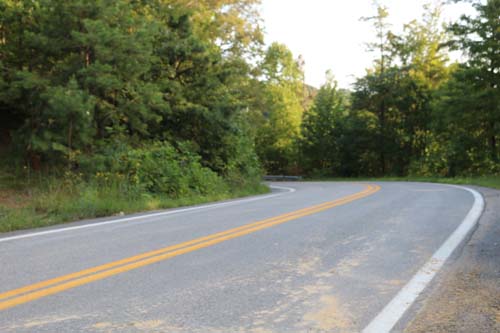 Death Certificate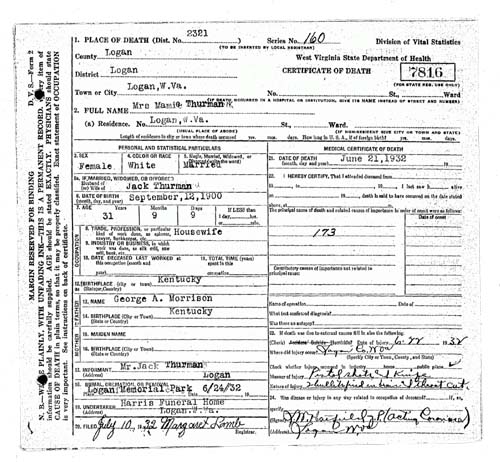 Mamie Thurman pushes jeep?!
---
Road along 22 Mine Road.
(You are hereby notified that the stunts and tricks displayed in this video are performed by professionals in a controlled environment. Do not attempt to duplicate, re-create, or perform the same or similar stunts and tricks, as personal injury or property damage may result. The producer of this video is not responsible for any such injury or damage. Just saying. . . )